THE PINK BAZAAR
An installation by Pamela Nelson of eleven paintings that refer to textiles hanging in a bazaar.
The artist is making a comment on the commerce of art and art prices now being "in the pink."
The arrangement mimics the sacred art "booth," repeated throughout the world as collectors worship at the art fair cathedrals.
I'm remembering the souks of the Middle East, that go back to ancient times.  Overloaded with textures, colors, patterns with a buzz of trading and haggling.
Pink is usually described as a feminine color, nurturing, compassionate.   Pink supposedly has a calming effect and sometimes drunk tanks are painted in a bright pink.  The color of the pink used on these walls is one mixed by Le Corbusier as an interior paint color for his architecture.
I've been inspired by the applied arts, especially textiles.  Art that is used in everyday life, even worn on the body, seems more universal and accessible than the "fine" arts.  All things in the material world are temporary, but all art nourishes the soul , which transcends.
Included in the installation is a multi panel painting 5' x26'.  Also nine paintings 40" x 40".
The influence of the handmade in our contemporary world of technology is still necessary to the human spirit.  I have a humanist's approach to the art of making do.  I am practicing improvisational geometry (improv-geo).
20 years ago, I constructed an installation influenced by the Reves collection at the DMA.  It was a transition time in my life , as I moved and de-accessioned many things , in the move to downtown Dallas.
Now I am in another transition time, living alone, married to art.  And time for another installation.
When I was 5 yrs old, there was one tv on the block .  Now one in every room and pocket.  Can we go back?  Not likely.  In 1970 , there were 3 art fairs in Europe.  Now over 200.  Can we go back ?  Not likely.
There is such a demand for more "products", many repeating success.  Collectors are chasing what is hard to get and compete.  Envy, greed, and a herd instinct at art fairs.  I've seen frenzy, confusion, not the best conditions to see art.  More and more overlays of luxury, drinks, food, entertainment, music.  Come to the Vanity Fair.
The dogs bark, but the caravan moves on—Arab proverb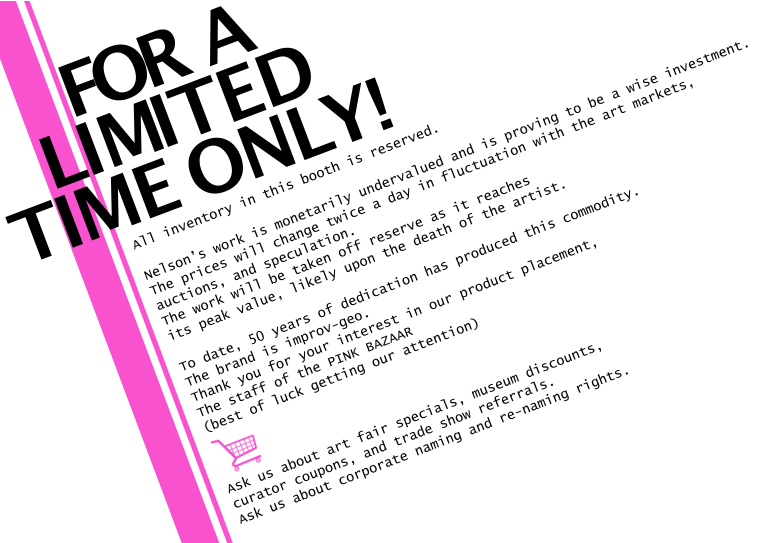 Photography by Harrison Evans & Pamela Nelson